Have you ever wondered what products Team Lush can't live without? While it is almost impossible to pick favourites amongst the phenomenal iS Clinical Skincare Range, this month our team have come together to each share what they consider their must-have, can't-live-without skincare product with you.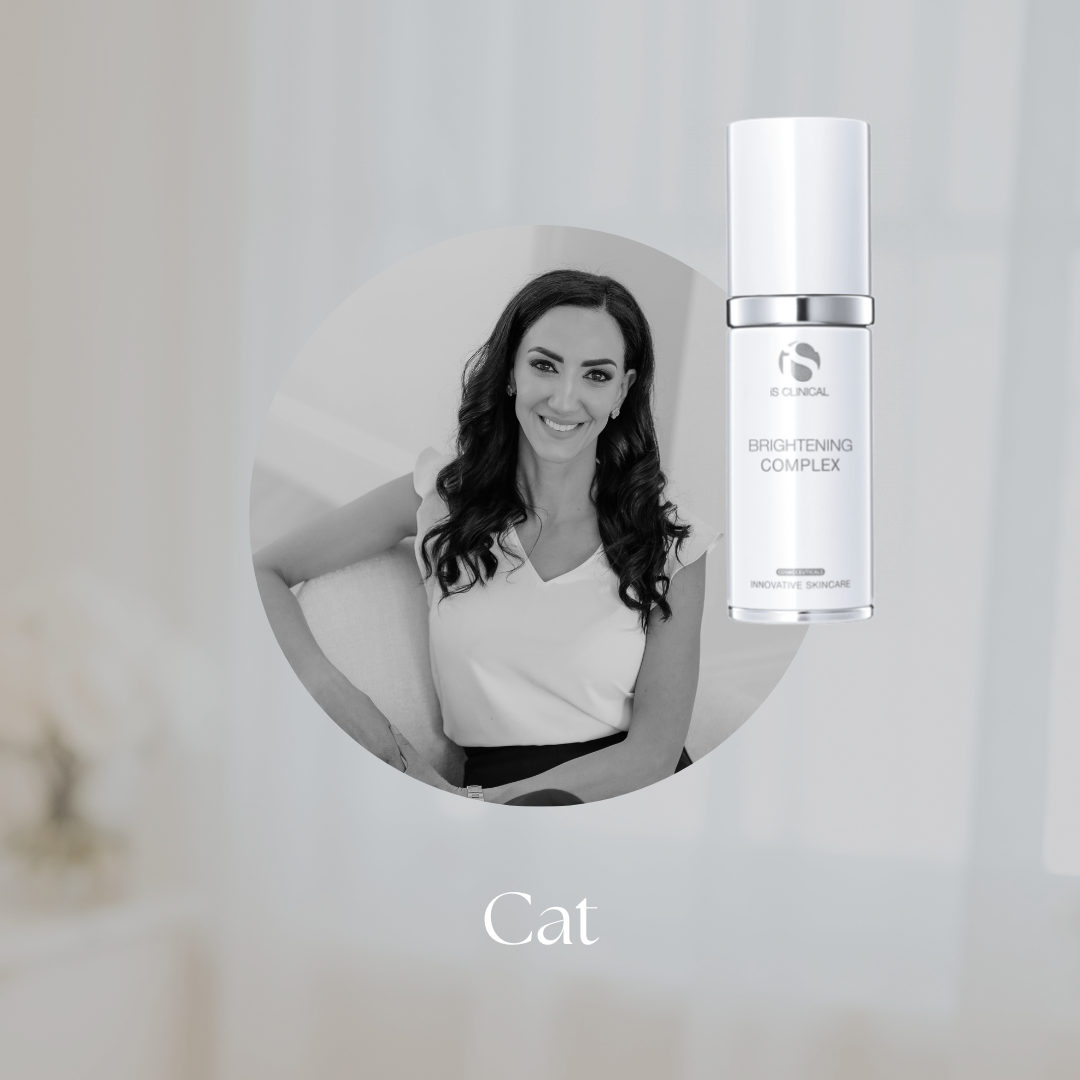 Cat's Favourite: Brightening Complex
Cat, our Clinic Director, swears by iS Clinical's powerful Brightening Complex. This remarkable product combines an innovative blend of proprietary brightening ingredients and pharmaceutical-grade botanicals to combat dullness and uneven skin tone, while delivering beneficial moisturising properties. Cat loves how it helps restore brightness and luminosity, and finds it particularly effective for combatting fine lines and wrinkles.
"It's the one product that I use that addresses all my concerns, from brightening my skin tone, tackling my pigmentation concerns, preventing fine lines and wrinkles, plus smoothing and exfoliating my skin."
Suitable for: Hyperpigmentation, Melasma/Chloasma, fine lines & wrinkles, rough/uneven skin texture, blotchy/uneven complexion, age spots.
Read more about Brightening Complex.
Brooke's Favourite: Extreme Protect
Brooke, our Senior Skin & Laser Therapist, swears by the iS Clinical Extreme Protect. This multifunctional sunscreen offers UVA and UVB protection while its nourishing properties help combat dryness and maintain optimal skin health. Extreme Protect works to minimise the signs of aging and reduces the impact of environmental stressors. Brooke adores how this product ensures her skin stays both protected and hydrated.
"If I was stuck on a deserted island and could only take one product with me, I'd be taking my Extreme Protect. I love the convenience of having both my sunscreen and moisturiser in the one product and it is so lightweight and easy to reapply."
Suitable for: All skin types, sensitive skin, sunburned skin, dehydrated skin, daily protection for skin.
Read more about Extreme Protect.
Zahra's Favorite: Cleansing Complex
Zahra, our skilled Skin & Laser Therapist, can't go a day without the iS Clinical Cleansing Complex. This gentle yet effective cleanser removes impurities such as makeup, dirt and oils, without stripping away essential moisture. Zahra appreciates how the Cleansing Complex helps maintain a healthy moisture balance, leaving her skin refreshed and supple after every use.
"I love that Cleansing Complex works to remove all makeup, even around the eye area. My skin always feels so soft after using this cleanser, it never feels drying or harsh to the skin, so I know it's leaving my skin hydrated and healthy. I couldn't go a day without it."
Suitable for: All skin types, acne-prone skin, large/congested pores, rough skin texture, pre- and post-procedure, aging skin, dry/sensitive skin.
Read more about Cleansing Complex. 
Alicia's Favourite: Active Serum
Alicia, our PA to the Director, cannot speak highly enough of the iS Clinical Active Serum and the changes it's made to her skin. Active Serum's potent formula harnesses the power of botanical extracts and scientifically advanced ingredients to address a range of skin concerns. Whether it's combatting fine lines & wrinkles, blemishes, or dullness, Active Serum is Alicia's go-to product for maintaining a smooth, youthful complexion.
"I struggle with hormonal breakouts, particularly around the chin and jawline, and using Active Serum nightly has worked wonders on keeping these blemishes at bay. The improvements were noticeable within just a few days."
Suitable for: Dry/Normal/Combination/Oily Skins, aging skin, blemish-prone skin, hyperpigmentation, large/congested pores, Pre-procedure.
Read more about Active Serum.
Melanie's Favorite: Pro-Heal Serum
Melanie, our dedicated Clinic Receptionist, is a firm believer in the iS Clinical Pro-Heal Serum. This powerful serum helps provide intense antioxidant protection thanks to its scientifically advanced ingredients such as L-Ascorbic Acid (Vitamin C) and Tocopherol (Vitamin E).  Working to revise skin aging and reduce inflammation & blemishes, Melanie loves how the Pro-Heal Serum promotes a more even skin tone while soothing and calming any inflammation and irritations.
"I am very prone to redness and flushing, so I love that Pro-Heal Serum helps me combat those concerns. The results just get better and better with time using Pro-Heal; my skin is so grateful for its daily Vitamin C."
Suitable for: All skin types, rosacea, acne, red/inflamed skin, rough skin texture, fine lines & wrinkles, pre- & post-procedure.
Read more about Pro-Heal Serum.
At LUSH Skin & Laser Clinic, we are committed to providing you with the finest skincare solutions tailored to your individual needs. While these are just a few of our favourite products, our team is here to guide you in selecting the perfect iS Clinical products to suit your personalised skin health journey. Ready to find your must-have products? Book your Skin Consultation with our experience team today.